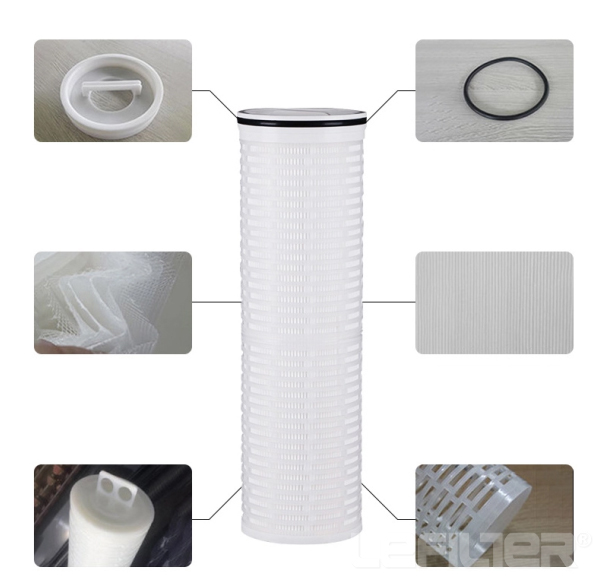 Depth-type high flow water filter cartridges
Introduction: Product introduction ofhighflow water filtercartridge: Thehigh-flow water filter element has a large diameter of 6 inches, achieving a single flow rate of up to 300gpm and 70m3/h, which reduces the number of system filter elements, greatly
We're here to help:
Easy ways to get the answers you need.
Product parameter
Inquiry
Product parameter:
Product introduction of high flow water filter cartridge:
The high-flow water filter element has a large diameter of 6 inches, achieving a single flow rate of up to 300gpm and 70m3/h, which reduces the number of system filter elements, greatly reduces the diameter of the filter housing, and saves floor space.
The filter material uses high-quality polypropylene, which is suitable for water-based or non-water-based fluids, and the flow is more uniform and uniform, especially in the field of food and beverage direct contact with food, with excellent performance. The foldable structure of outside-in and inside-out effectively increases the filtration area of a single filter element and enhances the dirt holding capacity.
The O-ring design and the top cover handle design have a more perfect seal, no special tools are required for replacement, shorten downtime, simple installation, and save labor costs.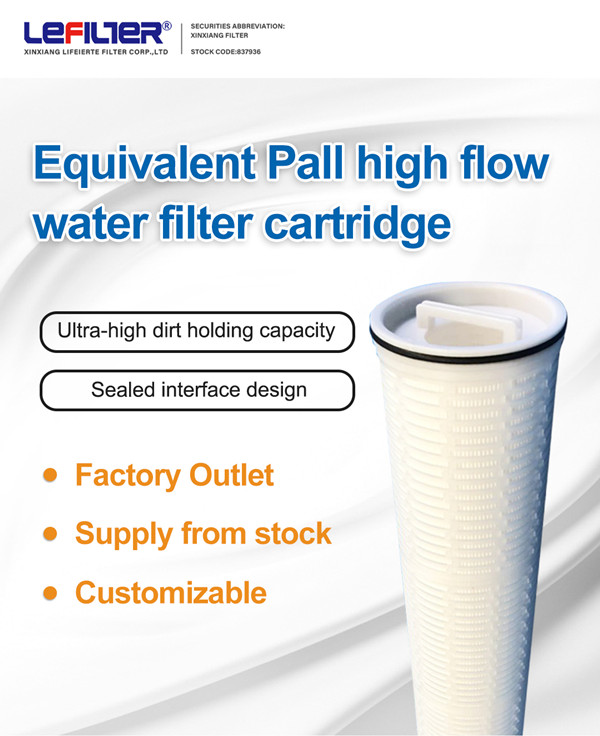 Product features of high flow water filter:
1. The combination of surface filtration and deep filtration enables a single throughput to reach 70m3/h. Compared with ordinary filter elements, it can greatly reduce the number of filter elements and significantly reduce the size of the matching shell. Reduce the number of filter replacements and unnecessary loss during use, and improve work efficiency.
2. Folding design increases the filter area and makes its pressure drop significantly lower than ordinary filter elements
3. The large diameter design increases the dirt holding capacity, prolongs the service life and reduces the production cost
4. The number of filter elements that need to be replaced is greatly reduced, saving labor costs
5. The convenient handle design significantly reduces the time to replace the filter element and makes the replacement of the filter element simple and portable.
6. There are a variety of filtering precisions to meet the requirements of different precision levels.
7. The overall polypropylene design and hot-melt welding treatment can effectively prevent secondary pollution.
8. Equipped with a skeleton to enhance the pressure resistance of the filter element during use.
9. The design of the sealing interface reduces the risk of side flow and ensures the sealing and reliability of the filter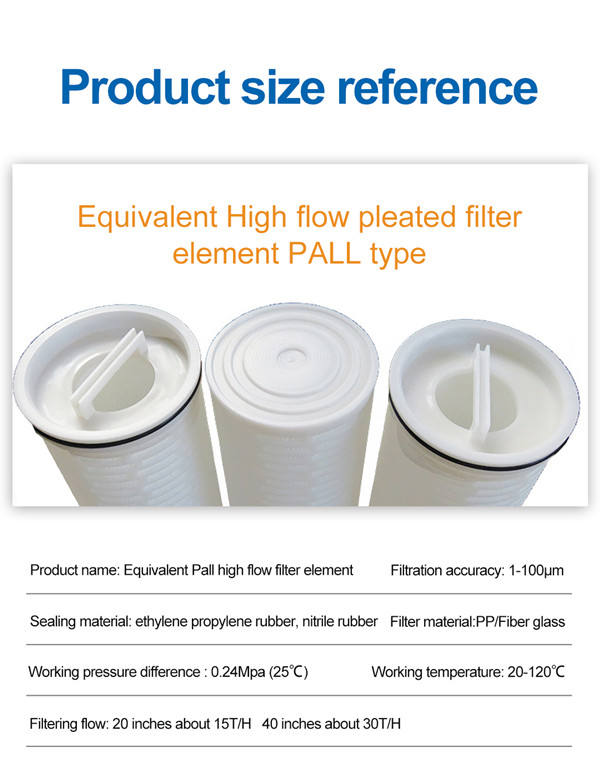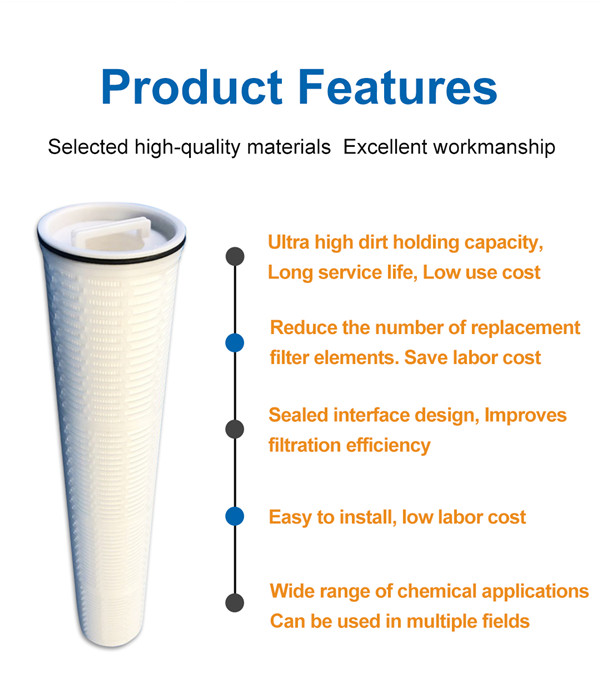 Technical parameter of high flow water filter:
Parameter type

Parameter value

Filter Accuracy

0.5,1,5,10,70μm

OD

6inch

ID

3.5inch

L

40inch
60inch

Filter material

Polypropylene

Support skeleton

Polypropylene

End cap

Polypropylene + Glass fiber

Support layer

Polypropylene

Seal ring / O-ring

Ethylene propylene rubber, nitrile rubber, silicone rubber, fluorine rubber

Maximum temperature

180ºF / 82ºC

Maximum flow

300gpm / 70m3 / h

Recommended differential pressure

35psid / 2.5bard

Maximum operating pressure difference

50psid@180ºF / 3.4bard@82ºC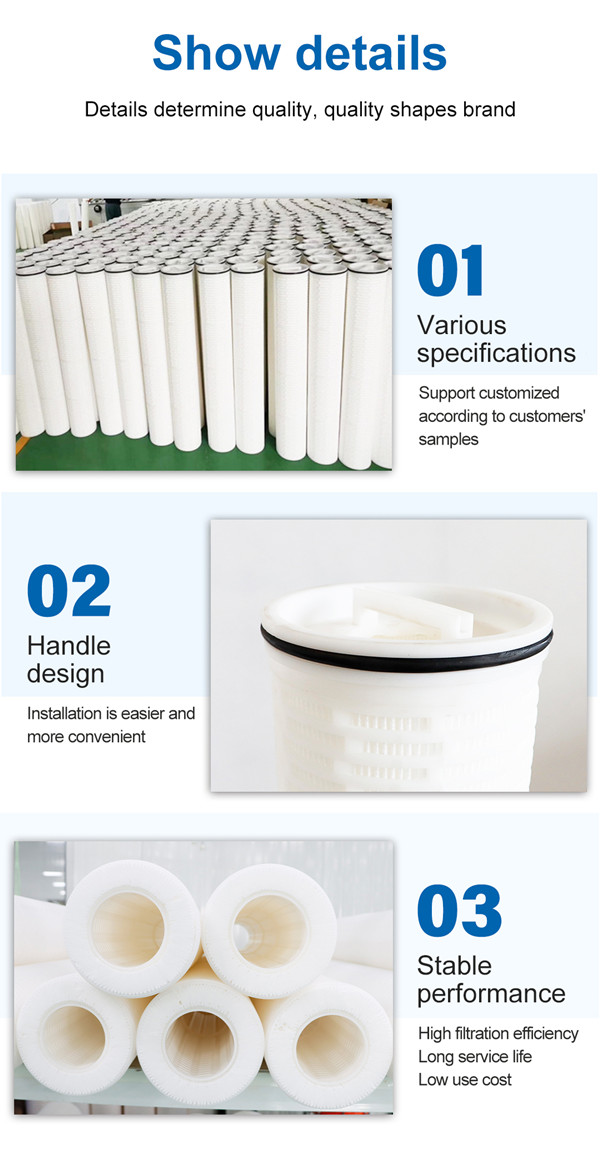 Application areas:
Pure water RO reverse osmosis pre-filtration
Material filtration in petrochemical industry
Purification and filtration of high-pressure boilers in thermal power plants
Pre-filtration of process water in the food and pharmaceutical industry
Pre-filtration of deionized water for microelectronics companies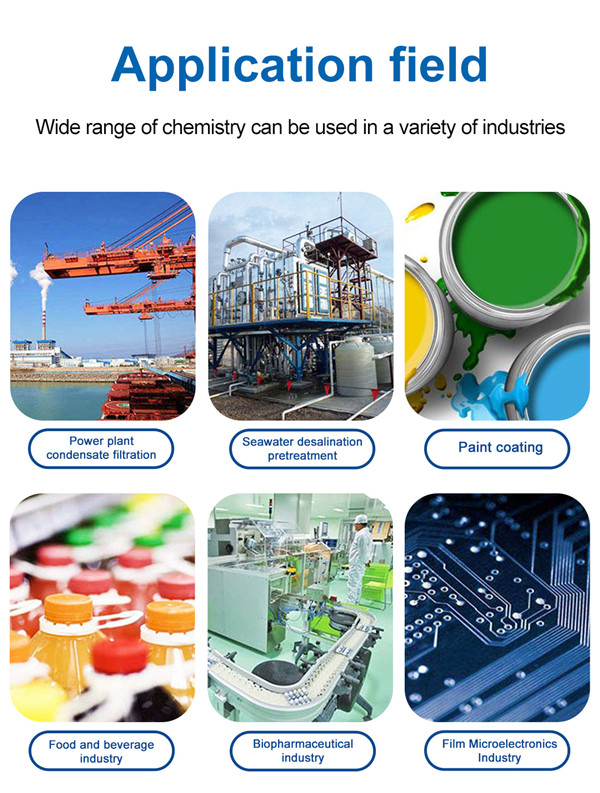 Please fill in your procurement needs and contact information