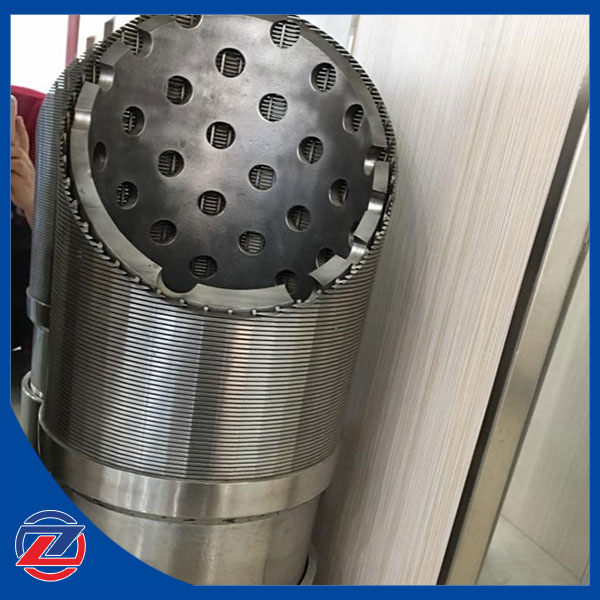 9 5/8inch Perforated based Pipe Well Screen
Introduction: Introduction of Perforated based Pipe Well Screen Pipe-based water well screens combine the hydraulic efficiency of wire-wound screens with the great strength of pipe.The base pipe is perforated or slotted API casing pipe,the base pipe can
We're here to help:
Easy ways to get the answers you need.
Product parameter
Inquiry
Product parameter:
Introduction of Perforated based Pipe Well Screen
Pipe-based water well screens combine the hydraulic efficiency of wire-wound screens with the great strength of pipe.The base pipe is perforated or slotted API casing pipe,the base pipe can be stainless steel or carbon steel API 5CT casing.The all-welded wedge wire screens are welded together with base pipe by supporting rod.
The Johnson pipe based screen is recommended when high collapse resistance is required and when the screens' length generates a high longitudinal constraint. The pipe strength allows smaller wrap wires to be used, yielding greater open area.
Features of Perforated based Pipe Well Screen
1. Higher filtering accuracy: all-welded wedge wire screens as screen jacket with vee opening design makes the filtering accuracy higher, which can control sand better.
2. Excellent strength and resistance to deformation: The base pipe inside, the outside can be protected with the protection jacket added according to requirements,the integrated strength of the perforated base pipe only decreases 2~3% compared with the standard casing/oil tubing, so the pipe based well screens have enough integrated strength to resist to thepressure caused by strata.Even if some part of the well screens deformed, the slot of this part will not be widened, which makes higher sand control reliability.
3. More choice: the material of screen jacket can be stainless steel or carbon steel, the material can be chosen as per customers' requirement.
4. The smaller slot will increase the oil and water production.
5.The excellent technique makes the mass production with high efficiency and low cost available.
Specification of Perforated based Pipe Well Screen
1.Material: Base pipe, K55, J55, N80,etc, Screen jacket: stainless steel (304,304L,316,316L etc.)
2.Diameter: 13 3/8"(339mm)
3.Slot Size (mm): as per customers' requirement
4.Unit length:R1,R2,R3
5.End Connection: STC,LTC,BTC
6.Packing: with wood chips or in bundle by steel strips
7. Service: Quick action, Prompt reply, 24hours/7days Service, your Reliable Partner.
Application of Perforated based Pipe Well Screen
Water Well Drilling
Commercial well drilling
Domestic Well Drilling
Agricultural Wells
Monitoring Wells
Dewatering well
Geothermal Wells
Please fill in your procurement needs and contact information