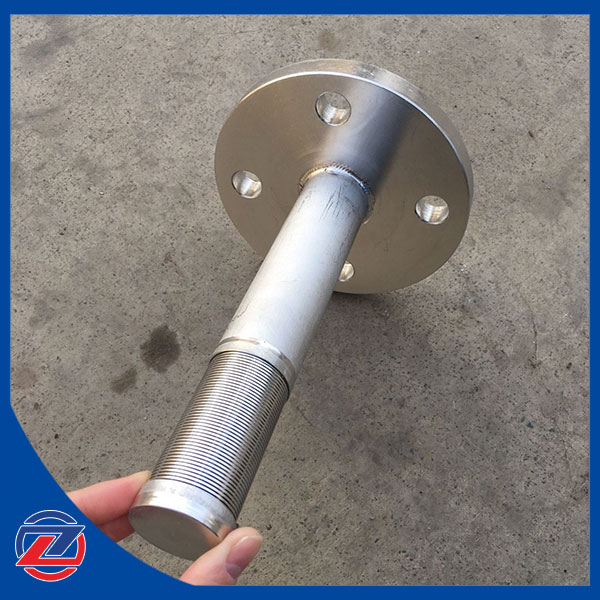 Wedge wire screen 316L wedge wire candle water filter
Introduction:Introduction ofIndustrial water filter wedge wire screen Wedge wire screen is made of wedge shape stainless steel wire. the Wedge wire screen is also called Johnson Screen. It has special v shape filtering slot. So that The filtration rate
We're here to help:
Easy ways to get the answers you need.
Product parameter
Inquiry
Product parameter:
Introduction of Industrial water filter wedge wire screen
Wedge wire screen is made of wedge shape stainless steel wire. the Wedge wire screen is also called Johnson Screen. It has special v shape filtering slot. So that The filtration rate is much improved by using this filter element in the filtration equipment.

Specification of Industrial water filter wedge wire screen
No.
(mm)TYPE
OD (mm)
ID(mm)
Support wire Number
Filter direction
1
SRD25.4
25.4
18.6
12
FOTI
2
SRD 33
33
24
8
FOTI
3
SRD 37
37
28
8
FOTI
4
SRD 40
40
31
8/10
FOTI/FITO
5
SRD 45
45
36
10/12
FOTI/FITO
6
SRD 48
48
38
12
FOTI/FITO
7
SRD 60
60
51
12
FOTI/FITO
8
SRD 70
70
61
12/18
FOTI/FITO
9
SRD 85
85
76
18
FOTI/FITO
10
SRD 110
110
101
24
FOTI/FITO
11
SRD120
120
111
24
FOTI/FITO
Application of Industrial water filter wedge wire screen
Coal/coke washeries - Seperationn Machine component / Wedge wire screen Filter mesh
Sugar mill- Seperation or Filtration component
Chemical and petrochemical- Hydro treating Filtering element / Filtration component
Soda ash plants- Seperation or Filtration component
Fertilizer plants- Seperation or Filtration component
Cement plants- Seperation or Filtration component
Solvent extraction plant- Filtering element / Filtration component
Effluent/water treatment plants - Filtering element / Filtration component
Stone quarrys - Seperation or Filtration component
Paper and pulp industries - Seperation or Filtration component/ Self-cleaning Single Filter
Food processing industries- Seperation or Filtration component / Back flushing cleaning Filter
Beer & Beverage Industries -Filtering Element or FitrationElement
Contact Information:
Bella / Overseas Manager
Email:sales06@xxldlq.com
Mob :008615565444640 (wechat,whats app)
Please fill in your procurement needs and contact information