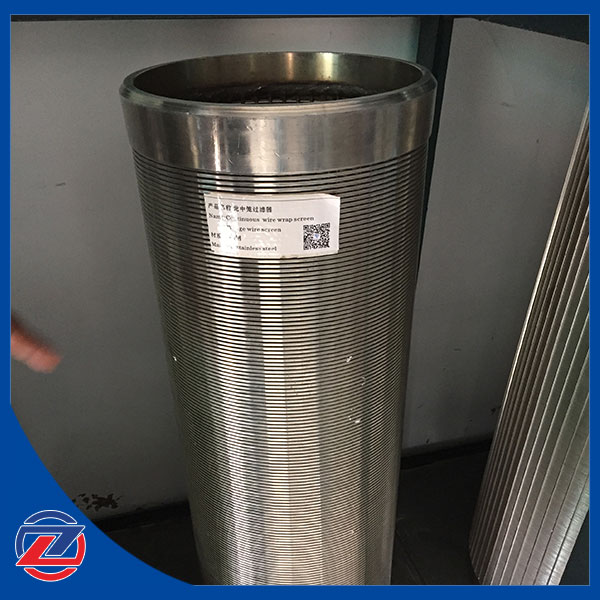 Wire wrapped johnson screens
Introduction:Introduction ofWire wrapped johnson screens n filter1Johnosn filter is made up of rods and profile wire. 2.The rod can be round wire,triangular wire or trapezoid wire 3.The profile wire is triangular wire (V-shaped wire).Wedge wire screen h
We're here to help:
Easy ways to get the answers you need.
Product parameter
Inquiry
Product parameter:
Introduction of Wire wrapped johnson screens
n filter 1Johnosn filter is made up of rods and profile wire.
2.The rod can be round wire,triangular wire or trapezoid wire
3.The profile wire is triangular wire (V-shaped wire).Wedge wire screen has a structure and high open
area,as well as accurate slot dimension.
4.At the same time,Johnson filter have heat-resisting,anti-corrosive,good machine capability,
last long,safety and reliability and so on characteristics.
5.It can be used in many kinds of medium filtering.

Specfication of Wire wrapped johnson screens
1.Materials: stainless steel and low carbon , such as 201 304 304L 316 316L Q235, and they can be made according to the customers requirement.
2. Diameter: 114mm 168mm 219mm 273mm 325mm 377mm 406mm
3. Slot:0.05, 0.1, 0.2, 0.5, 0.75, 1, 1.5
4. Length: 3m&6m (5.8m for the 20ft container)
5. Connection: Welding, Thread (STC,LTC,BTC),Flange
6. Supply capacity: 6800m/month
7. First class technology, High quality, Competitive price, Fast delivery

Application of Wire wrapped johnson screens
screens is used for water filtering and sifting in the following industry:
•Underground water well
•Borehole drilling
• Petroleum
• Chemical industry
• Pharmacy
• Food and beverage
• Metallurgy
• Coal mining
• Environmental protection
Please fill in your procurement needs and contact information