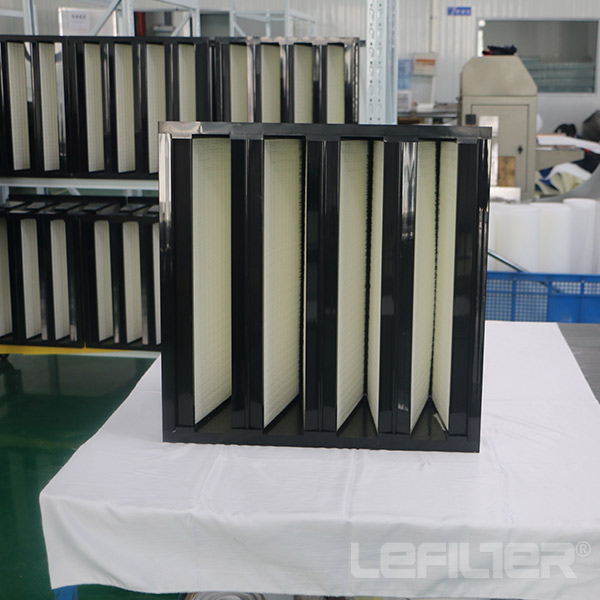 H13 V-Bank HEPA Air Filter with Plastic frame
Introduction: Factory wholesale for industrial use Air vent pocket filter 1.Style Pocket filter,bag filter 2.Feature Dust collection, Large dust collection,High quality,High efficiency 3.Material...
We're here to help:
Easy ways to get the answers you need.
Product parameter
Inquiry
Product parameter:
Features of H13 V-Bank HEPA Air Filter with Plastic Frame:
1,V type with plastic frame
2,Mini-pleat design, glass fiber filter paper
3,High dust loading capacity, long service life
4,Firm structure, good performance under turbulent air flow
5,Efficiency:65%(M6),85%(F7),90%(F8)(EN779)
99.95%@MPPS(H13)
99.995%@MPPS(H14)

Application: Very high efficiency final filtration,
in air conditioning systems.

Type: High flow rate very high efficiency filter.

Frame: Polypropylene.

Separator: hot melt beads.

Media: Glass fiber.

Gasket: CR,EVA,EPDM,PU

Filter class acc. EN 1882: H11,H12,H13, H14.

Recommended final pressure drop: 600 Pa.

Temperature / Humidity: 70°C / 100% RH.


Product Pictures of H13 V-Bank HEPA Air Filter with Plastic Frame:
Packing details of H13 V-Bank HEPA Air Filter with Plastic Frame


Standard Size
We not only produce all kinds of different normal size V-Bank HEPA filter,but also accept all kinds of customized
size V-Bank HEPA filter.Please choose what size you want to buy refer to the below table,
Model Dimensions
(W×H×D) mm
Filter grade
EN 779
Airflow / pressure drop m³/h / Pa(± 15%)
Unit
volume m³
610x610x292-5V
H13
3300/250
0.109
610x305x292-5V
H13
1650/250
0.055
610x610x292-4V
H13
2900/250
0.109
610x305x292-4V
H13
1450/250
0.055
592x592x292-4V
H13
2800/250
0.102
592x287x292-4V
H13
1400/250
0.050
610x610x292-5V
H14
3200/250
0.109
610x305x292-5V
H14
1600/250
0.055
610x610x292-4V
H14
2800/250
0.109
610x305x292-4V
H14
1400/250
0.055
592x592x292-4V
H14
2700/250
0.102
592x287x292-4V
H14
1350/250
0.050
Contact us now :
Attn: Ms Erica
Mobile: 0086-13069352523 (WhatsApp Or Wechat)
skype: lefilteryu
E-mail: sales02@xxfilter.com
http://www.xxfilter.com/
Please fill in your procurement needs and contact information