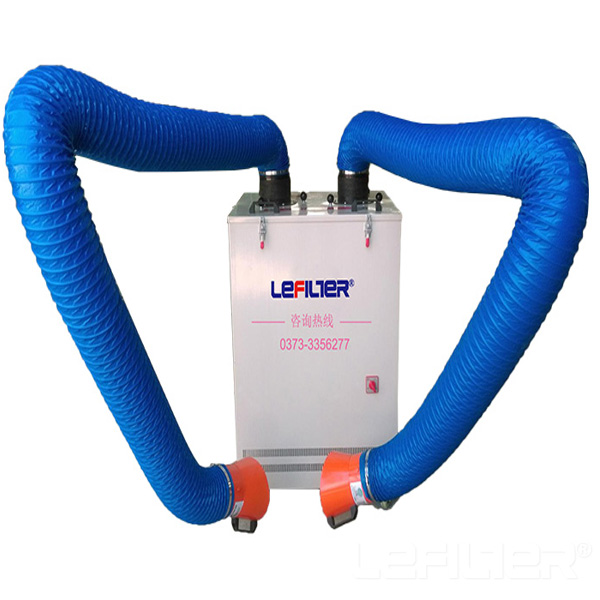 Welding Fume Extractor With CE Certificate 
Introduction: Descriptionsstainless steel dust collector bag filter type for plastic industry Baghouse dust collectors are using needle felt bags for filtering and reverse pulse compressed air...
We're here to help:
Easy ways to get the answers you need.
Product parameter
Inquiry
Product parameter:
Welding Fume Collector Product Application:
Welding fume extractor
suitable for air purification, fume filtration for different welding processing:
1) Argon arc welding;
2) Electric-arc welding;
3)Carbon-dioxide arc welding;
4)electric slag pressure welding;
5)Oxygen-acetylene Gas Welding;
6)Flash butt welding ultrasonic welding;
7) Other Welding Process.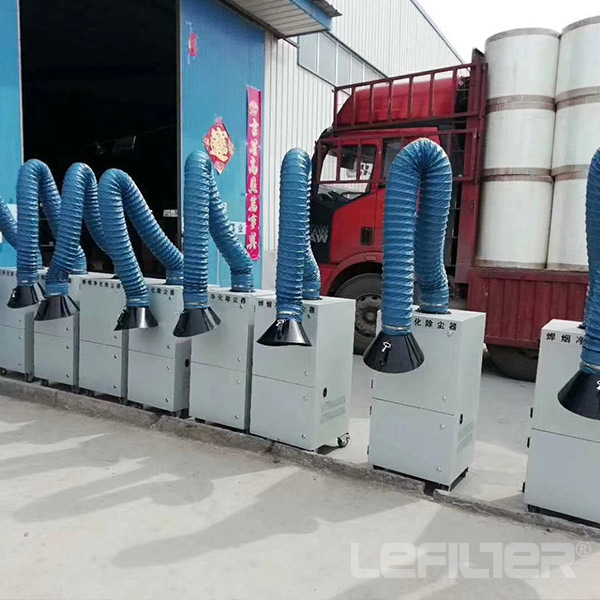 Welding Fume Collector Main Features:
Use special and high quality fans and motors to prevent the motor burned anti-overload circuit, high security, stable performance, high filtration performance, nice quality, easily move.
PA-4500DA using automatic cleaning system, installed the differential pressure monitoring device in front of filter and back the filter, when the filter pressure to reach the specified value, to connect air compressor, start the automatic anti-blowing system and doing high pressure blow back from inside of filter.
The deposition dust on the filter surface will be blowing to the dust drawer, so that the filter surface becomes clean. The equipment needs to be connected to compressed air, so customers need prepare their own air compressor. Air compressor connect by high pressure hose, it intake by high pressure from the bottom, to ensure the dust collector always in good working condition.
Welding Fume Collector Product Function:
1)Working principle:Through the wind force of the fan, the dust is sucked into the air inlet of the equipment through the suction hose, then the dust is blocked at the air inlet, the large dust is blocked to the dust drawer. Small dust enter into the settlement room, take use of gravity and the upstream air, firstly make the coarse dust directly drop to the ash bucket, small dust particles were trapped in the outer surface of the filter. Clean air will be filtrate by HEPA PTFE Cartridge Filter, then enter into the clean room, exhaust outside after the outlet by the standard discharge;
2) Has very good peformance for Dust collection and fume filtration for laser cutting metal, plasma cutting, polishing and small workpeiece metal grinding, etc;
3) Air flow is 4500m3/h;
4) With HEPA PTFE Cartridge Filter to ensure filtrate harmful material of the fumes/dust completely, to achieve room air quality standard, protect environment and people's health;
5) Filter cleaning type: Automatic blowback cleaning system.
Welding Fume Collector Product Speccification:
Cartridge Filter Elements Data
Item
Technical Data
Remark
Cartridge Filter
H13 class HEPA PTFE cartridge Filter
High efficiency film filter
Filter qty
2PCS
Filter cartridge size φ325*650MM
Exhaust Arm
2PCS
Suck the welding fumes
Average filtration rate
≥99.9%
It will be a little fluctuation according to different materials.
Blower Technical Data
Item
Technical Data
Remark
Running period
more than 30,000h
One year guarantee
Max. air flow
4500m³/h
Electronic speed control
Input capacity
4.0KW
Low capacity
Filtration Area
30m2
High filtration rate
Running sound
≤75dBA
Low sound volume
Input power
380V,50HZ
International standard
Equipment Data
Item
Technical Data
Remark
PA-4500DA
Carbon steel painting machine
Main components including: high temperature resistance vacuum hose, imported materials HEPA PTFE Cartridge Filter, dust drawer, casters with the brake, fans, motors and electronic control box, exhaust arm.
Dust Cleaning Way
Automatic blowback cleaning system
Using automatic cleaning system, installed the differential pressure monitoring device in front of filter and back the filter, when the filter pressure to reach the specified value, to connect air compressor, start the automatic anti-blowing system and doing high pressure blow back from inside of filter.
Fume & dust inlet
150mm*2
Double Air inlets, include 2pcs exhaust arms φ150mm*3000mm(L)
Fresh air outlet
150mm
Shutter holes
Machine weight
180KG (N.W.)
Machine with all elements
Dimension
820*840*1600mm
Machine size
Package dimension
920*940*1750mm
Packed by plywood crate
Mobile : 0086-13069352523 ( WhatsApp / Vechat )
Skype: lefilteryu
E-mail: sales02@xxfilter.com
Please fill in your procurement needs and contact information